Last updated Sep 17, 2021
How to buy BTC in Pakistan using Easy Paisa | 4 Methods
In this era of technology, everything has adopted an advanced form and so is currency. Cash is being replaced with digital currency and now we call it cryptocurrency. Cryptocurrency has several types and the most known one is bitcoin. People around the world are investing in bitcoin including Pakistanis but unfortunately, the authorities haven't legalized the trading of bitcoin in Pakistan yet that's why it is a bit difficult to approach the payment methods. In this article, we will tell you the details regarding different websites that can be used to buy bitcoin in Pakistan using easy paisa account.
Paxful
Paxful is an international platform for purchasing bitcoin where you can find a large number of traders from all around the globe. Paxful is a 100% reliable platform for purchasing bitcoin with several accessible payment options for Pakistanis and that is the reason for preferring Paxful over other exchanges. Below are the details to buy bitcoin from Paxful using your easy paisa account within few steps.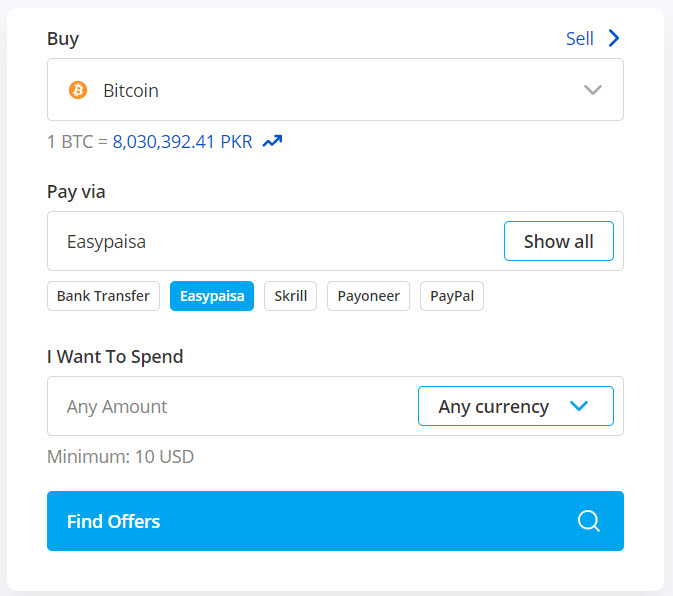 The first thing is to make a verified account on Paxful
After having your Paxful account click on the buy option at the top left of your screen.
On the left side of your screen, you can see several bars asking for your requirements including the type of cryptocurrency (bitcoin), Payment method (easy paisa), and the amount of which you want to buy bitcoin. Fill them accordingly and then click on find offers.
At the right side of your screen, you can see a list of sellers who are selling bitcoin via easy paisa. After comparing the rates and the availability of the seller click on the buy button. Paxful also allows you to have a chat with your seller and we suggest you avail this option as well before making the payment. Once the payment is being released your bitcoin will be added to your wallet.
Binance P2P
Binance can be ranked as the world's biggest bitcoin exchange due to the large number of people who are investing in bitcoin. Binance was established in 2017 with the idea of connecting people worldwide for the trading of cryptocurrency and today it has gained billions of users from all across the world due to its fair policies and user-friendly website. Binance offers 4 types of trading but p2p is most beneficial for people living in Pakistan. Here is a guide to buying bitcoin from Binance p2p using your easy paisa account.
Make a verified account on Binance.
Go to overview of your wallet, click on funding, then click on buy/sell button.
A page will appear before you where you will fill the required information. Select BTC from the given cryptocurrencies, select PKR in the fiat option and then select easy paisa in the payment options.
A list of traders will come into view, look at the price and limit of bitcoin if the offer suits your requirements then click on the buy button. Chat feature is also there so try to make sure the availability of seller before sending money and then if things go well you will have your bitcoin released in your wallet after the trade.
OKEX P2P
OKEX is a low-cost professional trading platform for the trading of cryptocurrency. This platform is meant for both worldwide and within-country trading. OKEX p2p trading is being planned very wisely as you can find the payment options as per your country. Below is a thorough guide on buying bitcoin from OKEX p2p using easy paisa.
After having a verified OKEX account you will go to their home page and click on the buy/sell option at the top left.
Another page will appear before you. On the left side and under the blue line you will see two options Quick trade and p2p trade from which you will click on p2p trade.
A new page will be opened where you will select the type of cryptocurrency (bitcoin), the amount in (PKR), and the payment method (easy paisa).
After filling in the details a list of sellers will be shown to you. Read the given details, click on buy BTC, and enjoy trading with OKEX.
Local Bitcoin
Local bitcoins is the only p2p trading platform where you can find traders from all over the globe. A large number of payment options makes local bitcoin a preferable choice for people. Moreover, their security system is wisely designed which is a red flag for scammers. So feel free to buy bitcoin from this p2p platform. Here is a complete guide for you to buy bitcoin from local bitcoins using easy paisa.
Once you have a verified account on local bitcoin you can start trading. On the main page of their website, you will click on buy bitcoins written at the top left.
A box with 4 bars will appear before you that you need to fill accordingly and make sure you select the easy paisa on the bar asking for payment method.
Click on the search option and a list of traders will appear before you.
Click on the buy option, chat with your trader and if things go well you can share the amount and he will release the bitcoins in your wallet.
Note: We don't recommend storing your cryptocurrency in any of the Exchange's wallets. If you want to be a holder for long term, its better to use some hard wallet or a paper wallet. This will ensure that you have access to your private keys. In case, there is some issue with the exchange, you will be safe.
Can I Buy Bitcoin without A Wallet?
Yes, all the exchanges mentioned above provide you with their inbuilt wallet. So, if you are a short term holder or trader, you can use their wallet to keep your assets. However, we suggest you to mange your own private wallet in case you're a long term holder.
Can I Buy Bitcoin with Easypaisa?
Of course you can, but you must remember that easypaisa is not directly involved in crypto/BTC trading. You can use it as a payment method to buy Bitcoin from peers in your country. Examples are the all methods mentioned above
Can I Withdraw Bitcoin to Easypaisa?
Of course you can, for this purpose, you need to transfer your BTC to any of the exchanges mentioned above. In case, your bitcoin is already in one of these exchanges, its well and good. After that, you need to click on sell buttons instead of buy and you will find many buyer's offers. Keep in mind that if someone offers you very much value, he might be a scam. So, beware of any such person. Always use the chat screen on these websites to chat with the sellers. And don't release your BTC unless you are sure that you have received the payment.
Must Read: Undoubtedly p2p trading is a very profitable way to buy bitcoin when you don't have much secure options to buy via direct debit/credit card. But the fact is that, you need to be cautious while buying through P2P. There is a large number of scammers who are lurking on most of the exchanges, doesn't matter how hard these websites try to keep their services scam-free; scammers will always find a way to cheat you so beware and keep your senses active while buying bitcoin from p2p platforms.

Read this guide to Avoid P2P Scams in Pakistan
About Author
Editor